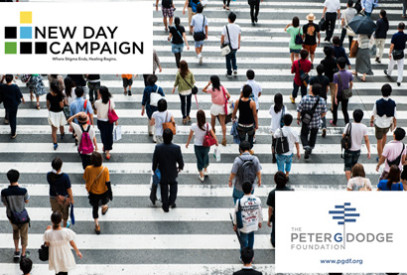 The Peter G. Dodge Foundation announces its sponsorship of the New Day Campaign, an initiative using art to challenge stigma and discrimination associated with mental illness and addiction, making the world a more healing place. Consisting of 15 art exhibitions and over 60 associated events, the New Day Campaign culminates with public programming and outreach throughout Baltimore, MD during the last quarter of 2015 (October 1 – December 31) that will open hearts, change thinking and conversations, and offer pathways to action.
PGDF will sponsor a public information session on treatment for alcohol addiction as one part of the programming for the People and Places: A Primer exhibition.
Many Pathways: Alcoholism
Eubie Blake Cultural Center
847 N. Howard St., Baltimore, MD 21201
October 6, 2015, 5:30-7:30pm
The Many Pathways series includes performance, personal sharing, conversation, and information on the many pathways to healing that are available to us. A reception and exhibition viewing at 5:30pm is followed at 6:00pm with a presentation and dialogue facilitated by Peter Bruun, founder and director of the New Day Campaign.
Options for treating alcohol addiction will be presented, including mutual help groups, medication, counseling, clinical treatment, aftercare, and natural/ alternative strategies. Those sharing insights include Michael Goldfaden, Executive Director of Samaritan House, Hugh Delaney of SMART Recovery, Ali Smith, Founding Director of Holistic Life Foundation, and others.
SPONSOR: Peter G. Dodge Foundation
PARTNER: Peter G. Dodge Foundation
Directions
From the south: I-95 North to I-395. Right exit to Downtown Baltimore. Right lane to Martin Luther King Boulevard. Travel through five traffic lights to North Howard Street. Turn right.
From the north: I-83 South to Maryland Avenue Exit. Turn left. Travel through three traffic lights to Martin Luther King, Jr. Boulevard. Turn left at North Howard Street.