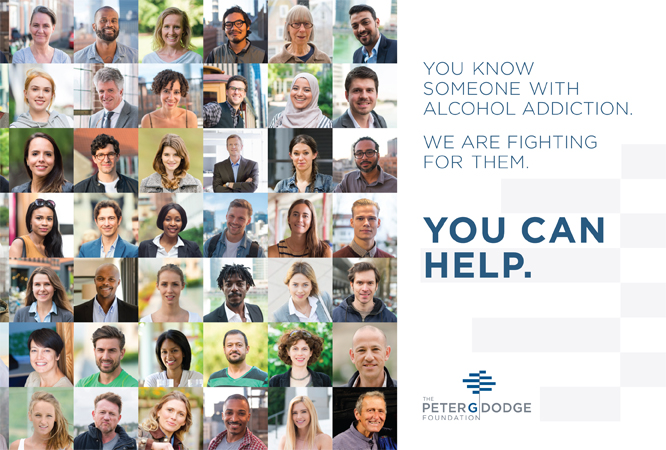 Everyone is affected by alcohol addiction, through a friend or family member, one's own journey, or simply from a public health perspective. We need everyone who cares about this issue to join us in working to surface new treatment options for AUD, improving access to treatments that work, and raising public awareness.
Why is this mission important?
Because:
Everyone is impacted by alcohol addiction
88,000 people per year die from alcohol-related causes in the U.S.
70% of substance use disorders are alcohol-only
Evidence-based solutions exist but are not widely known about or implemented
More and better solutions are needed
Funding is badly needed for research and access to treatment, but because of stigma around the issue, funding and public awareness are limited
Competition for fundraising dollars amongst organizations creates waste and duplicated effort
Why support PGDF?
Over five successful grant cycles, we have established a reputation as a capable, forward-thinking organization that works with world-class partners to achieve lasting change. We are the only non-governmental grantmaker in the United States dedicated to promoting recovery from alcohol use disorder.
Our fundraising strategy is similar to that used by community foundations nationwide—namely that we are a vehicle for supporters to pool their resources for greatest impact. Our rigorous decision-making process ensures excellent stewardship of these resources, making it easy for donors to make a difference without spending large amounts of time and energy.
Capabilities include:
Proven track record of five years of successful grantmaking with significant impact
Expert Advisory Council comprised of accomplished professionals from across the addiction field
Entrepreneurial, nimble operating style
In-depth topical knowledge of AUD and engagement with current issues
Connections to top leaders in addiction science, medicine, and advocacy
Rigorous vetting process for applications using a scoring system similar to that used by NIH and SAMHSA, plus staff-conducted background research and pre-application contact with the organization when possible
Dedicated and energized staff and Board of Directors
How are donations managed?
Major gifts are wired to a money market account, where they are held until they are ready to be distributed to grantees. Donor-advised funds are available.
Donor stipulations (e.g. anonymity or specific purposes) are honored
Our Executive Director personally handles expenditures with approval of the Board of Directors
We ensure financial integrity via annual independent audit, which is made public along with our IRS forms 990
As a 501(c)(3) organization, donations are tax deductible as allowed by law
We are grateful for the support of our donors and will provide public acknowledgement as appropriate
Ready to join us?
Visit our donation page to make an online gift, or contact us to discuss a legacy, anonymous, memorial, or other type of gift.
Thank you for supporting PGDF!