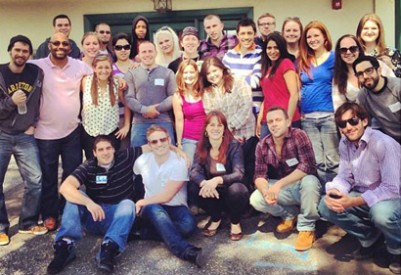 Young People in Recovery (YPR) is a national grassroots organization focused on peer-to-peer services for young people in, or seeking, recovery from substance use disorder. YPR empowers young people to get involved in their communities by providing them with the tools and support that will allow them to take charge of their futures.
Headquartered in Denver, Colorado, YPR has created a national volunteer network of community-led chapters, which organize and train young people to provide peer-to-peer support. With over 90 chapters across the United States, YPR advocates for policies and programs that help young people achieve and maintain recovery from substance use disorder. Advocacy priorities include increasing access to treatment-related resources, educational opportunities, stable employment, and secure housing. YPR also works to remove the stigma associated with addiction and to increase awareness that young people can and do recover.
YPR chapters offer leadership training and workshops to help young people learn skills such as resume writing, interviewing for a job, or applying for higher educational opportunities. YPR's website states, "These skills are essential for youth who are in recovery because they often were never taught, and never developed the awareness of how to obtain these skills, because they were addicted for most of their young adult lives."
YPR strives to create a stable base for young people in recovery, based on data from the World Health Organization which identified seven pillars that are essential to sustain long-term recovery. YPR has chosen to focus on the three they deem most important for initial stability: housing, employment, and education.
A 2015 Mission Grant from The Peter G. Dodge Foundation (PGDF) supported YPR's growth through a $10,000 sponsorship of the National Leadership Conference (NLC) held in August 2015 at Adelphi University in Garden City, New York. The NLC included a think tank for 30 New York chapter members who were being trained as peer recovery coaches by the New York State Office of Alcoholism and Substance Abuse Services, as well as a strategic planning retreat carried out through YPR's first ever in-person Board meeting and the convening of 100 chapter leaders from across the United States.
Collaboration and information-sharing at NLC allowed YPR, its Board and members to update their knowledge of best practices, latest research and newest technology to engage those affected by addiction and ensure their long term recovery. Workshops focused on building and sustaining chapters, volunteer management, media messaging, community outreach, and advocacy. Through this sponsorship, PGDF helped YPR increase its institutional capacity by providing training and investment in chapter leadership so they may offer services to more individuals.
YPR was formed in 2010 by young people in recovery who were interns at the Substance Abuse and Mental Health Services Administration (SAMHSA). It is led by 28-year-old President & CEO Justin Luke Riley. YPR has a full-time staff of five, most of whom are in long-term recovery or have a family member in recovery. YPR has an independent board of directors made up of people in recovery of all ages as well as nationally recognized leaders in the field of addiction prevention, treatment, recovery and advocacy. YPR's leadership reflects and embraces all pathways to recovery including 12-step, faith-based, Smart Recovery, harm reduction, medication-assisted and those not affiliated with any particular treatment or recovery philosophy.