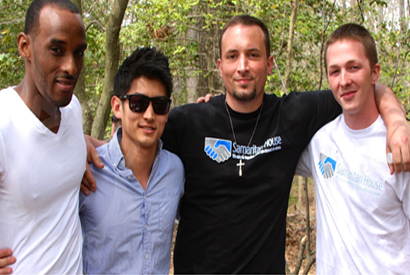 Samaritan House is an aftercare facility for men, located in Annapolis, Maryland, whose mission is to reintegrate clients into the local community and society as fully functioning members, free from the use of alcohol and/or illicit drugs.
Samaritan House was founded in 1971 by a group of people who were in recovery themselves and saw a need for residential care in the area. Their vision was to preserve dignity, promote self-sufficiency, and provide hope for men recovering from alcohol and drug addiction. Samaritan House has since helped thousands on their journey to an addiction-free life.
Fifteen years after its initial creation and certification, Samaritan House moved to a secluded eight-acre property where clients participate in individual and group counseling, relapse prevention, and skills training under the guidance of a clinically trained staff.  Admitted clients have completed a detoxification program but are still recovering from substance use disorder, and seek a residential program to create and reinforce a new, sober lifestyle. Clients are required to remain substance-free, obtain employment, honor a curfew, comply with all requirements of the criminal justice system, and assist with facility chores as part of their residence.
During a typical 3-9 month stay, residents focus on a multi-faceted approach to treating alcohol and drug dependence. The program includes cognitive behavioral therapy techniques, assistance in utilizing community resources, and a focus on personal responsibility. The Samaritan House staff supports clients through family counseling, career counseling, and relapse prevention. Fellowship amongst residents and between staff and residents becomes an important part of facilitating recovery, thus Samaritan House's motto: "We can do together what we cannot do alone."
Looking forward, Samaritan House has significant plans for growth. "This is an exciting time for us as we plan to expand our services and facility to meet the needs of our community," says Mike Goldfaden, Samaritan House Executive Director.  To better address the need for additional long-term residential drug and alcohol treatment and support services, Samaritan House is constructing a Campus of Recovery that will offer a comprehensive model recovery program.  The new campus will nearly double its capacity with the addition of 16 beds, and will extend the continuum of care with new meeting facilities for intensive outpatient counseling programs.
The Peter G. Dodge Foundation awarded a $5,000 Mission Grant to Samaritan House in 2015 to support a wellness program for their clients. This program was designed to augment treatment at Samaritan House, reducing incidents of relapse and improving the overall health and well-being of its participants through exercise.