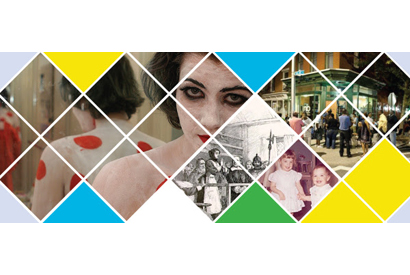 The New Day Campaign uses art-based programming and public engagement to challenge stigma and discrimination associated with mental illness and substance use, making the world a more healing place. Founded by Baltimore-based artist and activist Peter Bruun after the loss of his eldest daughter to a heroin overdose, the New Day Campaign envisions a world where those affected by mental illness and substance use are met with compassion and understanding rather than fear and judgment.
The New Day Campaign employs art as a means of humanizing the experiences of those with addiction and mental health challenges. Designed as an annual cluster of events that take place on a compressed timeline, the Campaign presented 16 art exhibitions and 63 free public events over 92 days in 2015 that changed thinking and conversations, and offered pathways to action.
Although it was conceived as a one-time series, public acclaim and demand for New Day's programming mandated that Bruun and his team explore possibilities for making the campaign into a permanent organization. In 2016, an Advisory Board was formed, and fundraising began for a second round of programming. 2016 saw continued activity, with a coffeehouse series and other events. In 2017, the New Day Campaign expanded its reach across Maryland through participation in the Behavioral Health Awareness Art Exhibition hosted by Maryland's First Lady Yumi Hogan, as well as a statewide naloxone awareness campaign. The final event of the season was the May 18 coffeehouse "Addiction Now: Safe Injection Facilities" presented with Open Society Institute, Baltimore. New Day Campaign is currently on hiatus as Bruun and his team plan the best way forward after facing staffing challenges in Spring 2017. Updates will be posted on New Day Campaign's website and Facebook page.
PGDF was pleased to work with the New Day Campaign on two projects. A public panel discussion entitled Many Pathways: Alcoholism was held at the Eubie Blake Cultural Center in Baltimore in October 2015. Building on the success of that event, a three-part Speakers Series entitled Alcohol Addiction: Myths, Problems, and Solutions was presented at the Johns Hopkins Bloomberg School of Public Health, Baltimore, in early 2017.