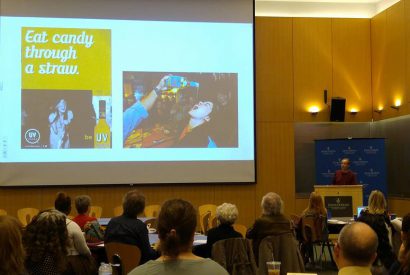 The Peter G. Dodge Foundation has completed its three-part Speakers Series in collaboration with the New Day Campaign, hosted by the Johns Hopkins Bloomberg School of Public Health's Forum on Alcohol Research and Advocacy (FARA) and the JHU Mental Health Student Group. Part one of the series, Alcohol Addiction: The Myth, took place on February 21, 2017.
Alcohol Addiction Today: The Problem
Part two, Alcohol Addiction Today: The Problem, addressed the stigma surrounding alcohol addiction and its negative effects. Visual artist Joanne Dvorsky opened the April 5, 2017 session by presenting her work and sharing her experience with alcohol addiction. Next, New Day Campaign Program Manager Tiffany Jones and PGDF Executive Director Elizabeth Cairns welcomed the audience and introduced their respective organizations. Spoken word artist Kondwani Fidel performed.
New Day Campaign founder Peter Bruun discussed the role that art and public engagement play in shifting cultural attitudes toward addiction. He presented images from the Center on Alcohol Marketing and Youth that explored the glamorization of alcohol in advertising and the cultural assumptions we make about alcohol and alcohol addiction. He posed the question: how can we as a culture see people with alcohol use disorder as "with us" rather than as "them," thereby reducing stigma and increasing care and understanding?
Visual artists Michelle La Perriere, Cheryl Maxwell, Anthony Ness and John Wise shared their work and thoughts on how addiction has impacted their lives.
David Jernigan, Ph.D., Associate Professor at the Johns Hopkins Bloomberg School of Public Health and Director of the Center on Alcohol Marketing and Youth, shared research about the marketing of alcohol and its impact. Dr. Jernigan, whose work has focused on public health practice and alcohol policy, has served as an adviser to the World Health Organization and the World Bank on the role of alcohol in health and development.
Dr. Jernigan identified several public health strategies that could be implemented to reduce problematic drinking, addressing product (brands associated with problematic drinking), place (outlet density, or high numbers of liquor stores in low-income areas), price (higher cost via alcohol tax leads to better health outcomes), and promotion (reducing advertising techniques that glamourize heavy drinking or target underage people).
The event closed with a panel conversation, with all presenters answering questions from the audience.
Alcohol Addiction Today: The Solution
Part three of the Speakers Series, Alcohol Addiction Today: The Solution, took place on May 2, 2017. The program began with a performance by singer-songwriter QueenEarth, who comes from a family impacted by alcohol addiction. Tiffany Jones and Elizabeth Cairns again offered introductory remarks from New Day Campaign and PGDF, followed by testimonials on pathways to recovery that worked for presenters Cheryl Maxwell, Anthony Ness, Cyril Scovens, and clients of residential and outpatient center Tuerk House. Each presenter discussed their own experience with pathways such as Alcoholics Anonymous or 12-step treatment, inpatient and outpatient clinical treatment, counseling, alternative and family support groups, wellness strategies, and medication. The group also focused on the need to increase access to treatment and treatment modalities.
Featured speaker Vincent DeMarco, President of the Maryland Citizens' Health Initiative, focused on political advocacy in his discussion of solutions that work. He highlighted how raising the alcohol tax by three percent in Maryland in 2011 led to a reduction in problems associated with alcohol use, such as a drop in drunk driving deaths and injuries. DeMarco then outlined a 6-step model of advocacy to make solutions more readily available. His plan for transforming public will into political power includes: forming an evidence-based plan; commissioning a high quality public interest poll; building a powerful coalition; using the media to get your message out; making your issue an election issue; and going to the legislature.
The session closed with a community conversation between presenters and the audience, facilitated by FARA leaders Pamela Trangenstein and Raimee Eck.