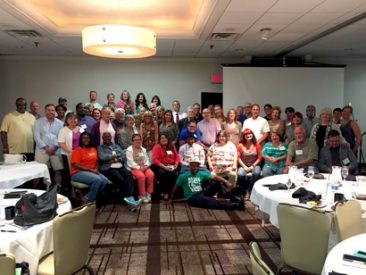 Faces & Voices of Recovery is a national non-profit organization dedicated to uniting and mobilizing Americans in recovery from drug and alcohol addiction into recovery community organizations and networks. Along with their families, friends and allies, they promote the right and the resources to recover through advocacy, education and by demonstrating the power and proof of long-term recovery.
Faces & Voices of Recovery works to raise the profile of the organized recovery community, end stigma, and inspire people struggling with substance use issues to join the 23 million Americans who are living life in recovery. They aim to promote widespread understanding that long-term recovery is a reality, is open to people from all walks of life, and is a process that takes time and support. Faces & Voices of Recovery is the leading national organization working to address public policy to reduce discrimination against people who are in or seeking recovery, and supporting recovery-oriented policies and programs.
Faces & Voices of Recovery envisions a world in which laws and policies enable recovery, health, wellness, and civic engagement; a world where communities are organized and mobilized to address policies, practices and perceptions of people affected by alcohol and other drugs; and where those affected by addiction have universal access to quality, effective care and support.
In 2014, Faces & Voices of Recovery received a PGDF Mission Grant in support of two of its programs: the 2015 Association of Recovery Community Organizations (ARCO) Executive Directors Leadership Academy, and an educational campaign to raise awareness and public engagement for the Comprehensive Addiction and Recovery Act (CARA).
The PGDF-supported 2015 ARCO Executive Directors Leadership Academy (EDLA) was held in Arlington, Virginia on July 23-24, in conjunction with America Honors Recovery, an annual awards event that recognizes outstanding individuals in the recovery movement. ARCO is a network of organizations that works to build the capacity of recovery community organizations to thrive and participate in local, state and national policy arenas, deliver peer recovery support services, and mobilize the local recovery community. The leadership academy included the directors of ARCO member organizations from across the United States.
The two-day EDLA agenda included workshops on peer integrity, accreditation of peer services, outcomes and evaluation, engaging volunteers, fundraising, policy issues, sustainability planning and more. There was also a presentation dedicated to the CARA Advocacy and Education Campaign. Ninety-four individuals from ARCO organizations attended the event.
The Comprehensive Addiction and Recovery Act of 2015 (CARA) is a groundbreaking piece of legislation intended to dramatically improve the landscape for those in or seeking recovery. With PGDF's support, Faces & Voices of Recovery created a campaign to educate and engage the public about CARA. The organization created and employed a toolkit specifically for ARCO members, a social media campaign called 'Make CARA Count', and two educational webinars. Additionally, Faces & Voices' Executive Director, Patty McCarthy, served on the CARA workgroup, a group which included representatives of national advocacy organizations and policy experts working towards educating the public and policymakers about the key issues facing people with alcohol and drug addiction.
In July 2016, CARA passed the United States Congress, approving funding for programs and improving public policy to help millions of Americans battling addiction, and was signed into law by President Obama.