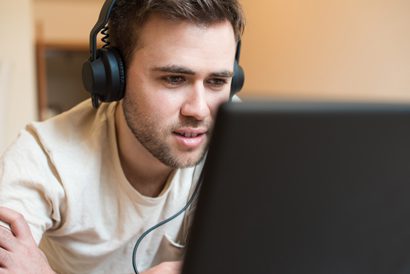 Cognitive behavioral therapy (CBT) is an evidence-based form of therapy that teaches skills and strategies to help people change their behavior. CBT4CBT, developed at the Yale Psychotherapy Development Center in 2008, is a web-based program that teaches CBT skills specific to reducing substance abuse.  The program has recently been shown to be effective in treating alcohol-use disorders (AUD) specifically.
In a 2016 Yale University School of Medicine study, 68 people who were seeking treatment for AUD were assigned to one of three treatment conditions for eight weeks: standard treatment as usual (TAU); standard treatment plus CBT4CBT; and CBT4CBT with brief clinical monitoring.
The study, published in the journal Alcoholism: Clinical and Experimental Research, found that subjects in both of the CBT4CBT groups remained engaged in treatment longer than those in the TAU group.  While there was a reduction in alcohol use in all three groups, CBT4CBT was superior to TAU at increasing the percentage of days abstinent when delivered as an add-on, and it was not significantly different from TAU or TAU + CBT4CBT when delivered with clinical monitoring only.
Additionally, preliminary findings suggest the estimated costs of all self-reported AUD-related services used were considerably lower for those assigned to CBT4CBT conditions compared to TAU, both within treatment and during follow-up.
Some of the skills taught by CBT4CBT include understanding patterns of substance use; recognizing and dealing with craving; addressing thoughts that may trigger use; and learning how to decline alcohol and drugs when they are offered.  Using movies and examples, the CBT4CBT program provides strategies to help people develop different thought patterns and new responses to recurring situations that may lead to substance abuse. Currently, people must be enrolled in a clinical program or working with a psychiatrist or psychologist to use CBT4CBT since the effectiveness of CBT4CBT for those not in treatment has not yet been tested.