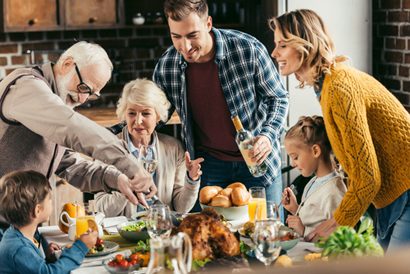 In our Treatment Guide Spotlight series, we highlight resources that can help solve specific problems and answer questions associated with alcohol and alcohol use disorder (AUD), using the PGDF Treatment Guide as a tool.
Drug and alcohol addiction cause a ripple effect, affecting not only the person directly struggling, but their family and friends, too.  A SAMHSA pamphlet entitled Alcohol and Drug Addiction Happens in the Best of Families states: "Millions of Americans misuse or are dependent on alcohol or drugs. Most of them have families who suffer the consequences, often serious, of living with this illness. If there is alcohol or drug dependence in your family, remember you are not alone. Most individuals who abuse alcohol or drugs have jobs and are productive members of society creating a false hope in the family that "it's not that bad." The problem is that addiction tends to worsen over time, hurting both the addicted person and all the family members. It is especially damaging to young children and adolescents."
There is direct help for the families of those whose loved ones are dealing with alcohol dependence – whether that person is in treatment or recovery or not.  Resources for friends and family members include family therapy, mutual help groups and family training.
The PGDF Treatment Guide section on Friends & Family provides information on a variety of options.
To learn more about each option, you may click through to our Treatment Guide section on Friends and Family.
Adult Children of Alcoholics (ACA)/Dysfunctional Families is a Twelve Step, Twelve Tradition program of men and women who grew up in dysfunctional homes. ACA holds meetings where members can "share our experience of growing up in an environment where abuse, neglect and trauma infected us. This affects us today and influences how we deal with all aspects of our lives. ACA provides a safe, non-judgmental environment that allows us to grieve our childhoods and conduct an honest inventory of ourselves and our family—so we may (i) identify and heal core trauma, (ii) experience freedom from shame and abandonment, and (iii) become our own loving parents."
Al-Anon and Alateen are mutual help support resources for those affected by someone else's drinking, including parents, children, spouses, partners, brothers, sisters, other family members, friends, employers, employees, and coworkers of alcoholics. Al-Anon's primary focus is to solve the common problems experienced by families and friends of alcoholics. Their website states: "We want our lives to be different, but nothing we have done has brought about change. We all come to Al-Anon because we want and need help. In Al-Anon and Alateen, members share their own experience, strength, and hope with each other. You will meet others who share your feelings and frustrations, if not your exact situation. We come together to learn a better way of life, to find happiness whether the alcoholic is still drinking or not."  Al-Anon holds meetings all over the world. Alateen, a part of the Al-Anon Family Groups, is a fellowship of young people (mostly teenagers) whose lives have been affected by someone else's drinking whether they are still in the teen's life and drinking or not. Teenagers who attend Alateen meet with other teenagers who are in similar situations. Alateen is not a religious program and there are no fees or dues to belong to it.
CRAFT (Community Reinforcement and Family Training) 
CRAFT is an evidence-based program that was developed to teach the families of those affected by addiction how to positively impact their loved one and motivate them to enter treatment. The CRAFT model helps family members learn how to more effectively interact with their loved one, leading to decreased defensiveness and a higher likelihood that they will be receptive to help.  Through CRAFT, family members can learn positive communication skills and resilience, which will help them to more skillfully navigate their relationships, feel better themselves, and to be in a better position to help their loved ones.  CRAFT has three goals:  to move the substance user towards treatment; reduce their alcohol or drug use even if they are not yet in treatment; and improve the lives of concerned friends and family.
Families Anonymous (FA) is a Twelve-Step mutual help fellowship for the friends and families of people with drug, alcohol, or related behavioral issues. Created over 40 years ago by a group or parents who were searching for ways to cope with their children's substance abuse, FA encourages anyone who is concerned that a family member may be abusing drugs or alcohol to attend meetings, even if they are not 100% certain that there is a problem.  Like other Twelve-Step groups, FA prizes anonymity – only first names are used in meetings.  FA holds in-person meetings around the world and also offers online meetings.  The goal of FA meetings is for members to stop being part of the problem and to become part of the solution, as well as to find peace and serenity in their own lives.
National Association for Children of Alcoholics (NACoA) 
The mission of the National Association for Children of Alcoholics (NACoA) is to eliminate the adverse impact of alcohol and drug use on children and families. NACoA and their affiliates offer support for school-aged children whose parents struggle with alcohol or substance abuse. NACoA offers a variety of programs including videos, books, posters, and other educational training tools for therapists, educators, parents, clergy and other youth-serving adults.  Their materials can be downloaded for free and include tools to help assist those working with young children whose families are affected by alcohol abuse; to help children understand alcoholism and to develop coping strategies; to educate parents and educators on how to talk to children about alcoholism, and more.
SMART Recovery Family & Friends 
SMART Recovery is a global community of people working together to resolve addiction problems. SMART Recovery's Family & Friends offers meetings, tools and resources for the wellbeing of those who have a loved one dealing with addiction.  Based on SMART Recovery and CRAFT Therapy, meetings help concerned significant others (CSO's) to more effectively support their loved one, without supporting the addictive behavior.  Meetings are free and available in-person and online and give CSO's the skills to stabilize their own emotions, improve their lives, and learn more effective strategies of communicating that may motivate their loved one to enter treatment.