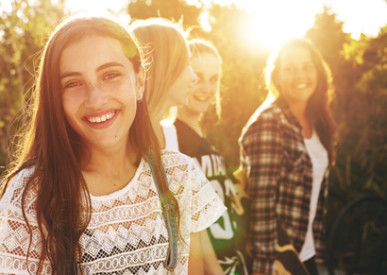 Screening, Brief Intervention, and Referral to Treatment (SBIRT) is an evidence-based clinical tool designed to facilitate early intervention and treatment for people who are experiencing, or are at risk of developing, alcohol and substance use disorders. Administered by physicians and other healthcare professionals, it consists of questions that assess alcohol and substance use, followed by a brief intervention that uses motivational interviewing techniques, and lastly, a referral to additional treatment when warranted. While SBIRT has been shown to help reduce heavy drinking and its associated consequences in adult populations, the use of SBIRT in pediatric populations has been stymied due to physicians' time constraints and lack of training in SBIRT techniques.
Underage drinking and drug use is very common. Heavy drinking in adolescence can result in injury or academic trouble, and is associated with long-lasting changes to the brain and alcohol dependence. Mounting evidence supports the use of SBIRT in pediatric primary care settings to stop substance use problems before they start or escalate.
A new study led by Dr. Stacy Sterling, Dr.P.H.(c.), M.S.W. at Kaiser Permanente Northern California in Oakland, examined whether training pediatricians in SBIRT use would increase screening and early detection of substance use problems in young patients. It also tested whether adding a behavioral health professional to the pediatric team would increase the incidence of SBIRT use within the practice.
The study answered both questions in the affirmative, finding that three brief training sessions helped to increase the use of SBIRT in pediatric clinical settings, and that having psychologists on the pediatric clinical team increased the incidence of SBIRT use.
The two-year trial, involving 47 pediatricians and almost 1,900 adolescents, included three clinician groups:
Pediatrician-only: Doctors in this group had three 60- minute SBIRT training sessions, after which they independently conducted SBIRT assessments and interventions when necessary.
SBIRT-trained pediatricians plus embedded clinical psychologists: Doctors had just one 60-minute SBIRT training session and did the assessment portion of SBIRT themselves but when necessary, referred patients to clinical psychologists who were embedded in the practice and did any necessary interventions.
"Usual care" group:  These pediatricians served as the control group.  They did not undergo any SBIRT training and did not have clinical psychologists embedded in their practices.
After SBIRT training, the pediatrician-only group was about 10 times more likely to do brief interventions with at-risk patients, compared with the "usual care" doctors. The pediatricians who were SBIRT-trained and worked in conjunction with embedded psychologists, conducted brief interventions 24.5 percent of the time, compared with 16 percent in the pediatrician-only group, and 1.5 percent in the usual care group.
"This research provides valuable new information about strategies that might improve implementation of SBIRT in everyday pediatric practice settings," said NIAAA Director George F. Koob, Ph.D.