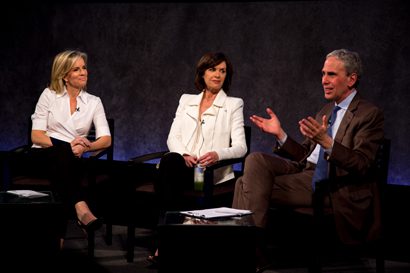 On April 29, 2016, more than two hundred leaders in the field of addiction treatment and recovery gathered at the Paley Center for Media in New York City for Recovery, Meditation and the Brain, a national summit on meditation and addiction. Hosted by The Peter G. Dodge Foundation, David Lynch Foundation and Freedom Institute, the event highlighted scientific research and current and future application of Transcendental Meditation (TM) in treatment for substance use disorder.
The program was moderated by Dr. Jennifer Ashton, co-host of ABC's The Doctors, and senior medical contributor at Good Morning America and World News with David Muir. Presenters included Elizabeth Vargas, anchor of ABC's 20/20 and former anchor of World News Tonight; actor and comedian Russell Brand who joined the event via Skype; Bob Roth, director of the David Lynch Foundation; Dr. Norman Rosenthal, Clinical Professor of Psychiatry, Georgetown University Medical School, medical researcher, and author; and Dr. Richard Friedman, Professor of Clinical Psychiatry, Director of Psychopharmacology Clinic, Weill Cornell Medical College, and New York Times science columnist.
A panel discussion with entrepreneur and PGDF founder Peter Dodge, scientist Dr. Jan Gryczynski, recovery coach Cindy Feinberg, and Freedom Institute Board Chair Robert Miller focused on panelists' personal experiences with TM, Freedom Institute's recent incorporation of TM into their treatment protocol, and a current scientific study funded by the Peter G. Dodge Foundation on whether TM can help prevent relapse in patients undergoing inpatient treatment for alcohol addiction.
The event concluded with testimonials from musician Matt Butler; lifestyle journalist and founder of The Numinous Ruby Warrington; and legendary musical agent Jonny Podell on the role TM has played in their recovery from addiction.