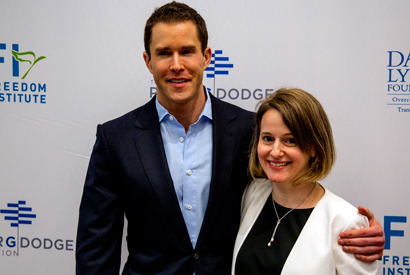 Philanthropist and entrepreneur Peter Dodge, who is in recovery from alcohol use disorder, started PGDF as a way to expand treatment options, elevate awareness and facilitate access to recovery for those who struggle with alcohol addiction. He is shown here with Elizabeth Cairns, executive director of PGDF.
WITH GRATITUDE TO OUR GENEROUS DONORS
Grant from Peter G. Dodge Foundation expands online course for health care providers to learn about alcohol use disorders
As a part of its mission to help people lead lives free of the effects of alcohol addiction, the Peter G. Dodge Foundation (PGDF) is funding a major expansion to the online Course in Addiction and Recovery Education (CARE)/Aquifer Addiction, which is offered through the Hazelden Betty Ford Foundation to medical, nurse practitioner and physician assistant schools worldwide.
Thanks to PGDF's grant, six new case studies on alcohol use disorders will be added to the innovative curriculum. Bringing medical professionals up to date on current practice in addiction medicine is an important goal of PGDF, says Elizabeth Cairns, executive director.
"Very few medical schools require or even offer education on addiction," Cairns explains. "With the current opioid crisis, people are starting to realize the folly in that. Yet, amazingly, alcohol use disorder is far more prevalent than opioid addiction, with alcohol accounting for 70 percent of substance use disorders."
Primary care physicians have a tremendous opportunity and, Cairns suggests, a fundamental responsibility to screen people for alcohol use disorder and intervene before the problem worsens. "It is essential for medical providers to have an understanding of what to do next and what treatment options are available when a patient screens positive for alcohol use disorder," she says. The expanded CARE curriculum will address these topics in greater depth.
Through PGDF's collaboration with the Hazelden Betty Ford Foundation and other likeminded organizations, Cairns sees exciting breakthroughs ahead. She points to the growing consensus among addiction experts that a multi-strategy, personalized approach that involves physical, behavioral, social and spiritual components offers the most effective approach to treating addiction.
"It's incredibly inspiring to collaborate with researchers, clinicians and educators who are working hard every day to solve a really complicated problem," Cairns reflects. "I am hopeful that, in the near future, our combined efforts will culminate in tangible improvements in how alcohol addiction is treated in the United States."