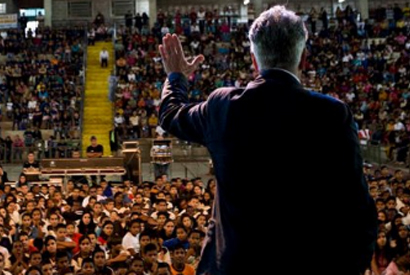 The Peter G. Dodge Foundation (PGDF) announces a new grant to support a pilot program at the David Lynch Foundation (DLF) implementing Transcendental Meditation in addiction recovery settings. This $150,000 grant will be disbursed over two years and will support the addition of a DLF staff member to oversee and implement the program.
In 2015, a grant from PGDF allowed the David Lynch Foundation to partner with the Friends Research Institute, a non-profit research institution specializing in substance use health services research, to conduct a 12-month feasibility study at the Avery Road Treatment Center in Rockville, MD. The Avery Road facility serves a large population of patients with primary alcohol use disorder (over 400 annually). The study, which included 60 participants at Avery Road, successfully demonstrated the feasibility of including the evidence?based Transcendental Meditation (TM) technique as an approach for preventing relapse following alcohol use disorder (AUD) treatment.
In 2016, DLF and PGDF jointly hosted a National Summit on Recovery, Meditation, and the Brain which presented and discussed overcoming stress, improving health, and managing the effects of addiction. Moderated by Dr. Jennifer Ashton, the speakers included Dr. Richard Friedman (Weill Cornell Medical Center), Dr. Jan Gryczynski (Friends Research Institute), Dr. Norman Rosenthal (Georgetown University School of Medicine), Robert Miller (Freedom Institute), Cindy Feinberg (International Recovery Institute), Bob Roth (David Lynch Foundation), Peter Dodge (PGDF), and special guests Elizabeth Vargas (ABC News) and Russell Brand. The Summit reviewed peer-reviewed research concerning the use of TM in recovery applications and discussed the implications and potential uses and partnerships of this technique moving forward.
PGDF founder Peter Dodge's personal success using TM as part of a treatment plan to manage alcohol use disorder has made him an advocate for the technique, and a supporter of gathering further evidence on how others who suffer from AUD may benefit from its implementation as a therapeutic tool. The new grant builds on previous successful collaborations between the two organizations, with the goal of including TM as a viable option in AUD treatment plans.