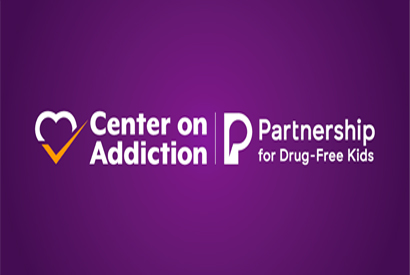 Our friends at Partnership for Drug Free Kids and Center on Addiction (formerly known as CASA) recently announced that they are merging. As Center on Addiction, they are poised to combine their research expertise with media acumen and family-focused programming to transform the ways we address addiction in the U.S.
Center On Addiction Press Release
New York, NY,  January 15, 2019
Center on Addiction and Partnership for Drug-Free Kids announced today they are merging under the name Center on Addiction. As mortalities mount from drug overdoses in this country, the organizations are uniting to accelerate progress against this deadly disease and transform how the nation addresses addiction.
"A crisis of this magnitude requires leadership and collaboration. That is why we are integrating the expertise of two prominent nonprofits that have been combating addiction for a combined half century," said Creighton Drury, who is assuming the role of CEO at Center on Addiction. "Our complementary expertise will allow us to confront this disease from multiple angles to ensure that all young people can achieve their full potential and families get the support they need."
Fred Muench, the President and CEO at Partnership for Drug-Free Kids, is joining Center on Addiction as President. In addition, James G. Niven, a longtime board member and former Chair of Sotheby's The Americas, will head the Board of Directors as Chair, and Mike White, the former CEO of DirectTV and Chair of the Board of Directors at Partnership for Drug-Free Kids, will serve as Vice Chair of the New York City-based nonprofit. The integration process is underway and will be completed later this year.
This merger combines research, policy, media, direct-to-family resources and services, as well as communications expertise, allowing Center on Addiction to be the go-to organization for addressing every aspect of substance use and addiction, from prevention to recovery. The nonprofit will empower families to support loved ones, advance effective addiction care, and shape public policies that prevent and treat addiction as a public health issue. Ultimately, this strategic combination will help ignite a movement to change the way addiction is perceived in this country, extinguishing deep-rooted misperceptions and stigma.
"Bringing together many of the most respected experts in addiction provides the opportunity for us to develop much-needed solutions to addiction care, and to partner with other leaders in the field," said Muench. "I'm thrilled this merger allows us to expand and scale our essential programming that can empower even more families with information, support, and guidance."
Both nonprofits boast legacies of leadership. Center on Addiction has been a leading force in health care research and implementation, evaluation services, and policy and advocacy analysis around substance use and addiction since Joseph A. Califano, Jr. founded the organization in 1992 as The National Center on Addiction and Substance Abuse (CASA). Partnership for Drug-Free Kids, a pioneer in public service advertising, has focused on driving awareness of substance use since its founding in 1986. Led by James E. Burke during its early, formative years, the nonprofit offers science-based family services to help parents and caregivers who care for loved ones across the substance use spectrum.
About Center on Addiction
Center on Addiction is a science-based nonprofit focused on improving the understanding, prevention, and treatment of addiction. Founded in 1992 by former U.S. Secretary of Health, Education and Welfare Joseph A. Califano, Jr., our purpose is to find, promote and enact the necessary solutions to address America's deadly addiction crisis. For more information, visit www.centeronaddiction.org.
About Partnership for Drug-Free Kids
Partnership for Drug-Free Kids is committed to helping families struggling with their son's or daughter's substance use. We empower families with information, support and guidance to get the help their loved one needs and deserves. On our website, drugfree.org, by phone at 855-DRUGFREE, through text messaging and Facebook Messenger, the Partnership's Parent Helpline helps families address substance use among adolescents and young adults.