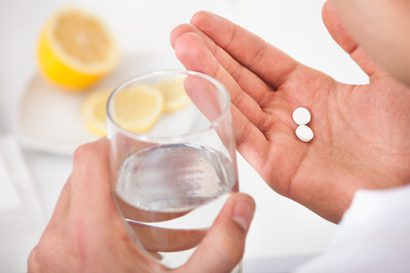 Medications exist that can help heavy drinkers cut back or abstain from alcohol, but many people, including physicians, are not aware of them.  A 2015 study found that 80 percent of people with alcohol-use disorders (AUD) will never seek treatment and even fewer will incorporate medications into their treatment plan.
"Physicians are actually unaware that there are medications [for AUD] so it's really a problem and we are stepping up our efforts in the medical community," George Koob, director of the National Institute on Alcohol Abuse and Alcoholism (NIAAA), told Allison Aubrey in a February 2017 NPR piece.
NPR's Aubrey spoke to Koob and others, including John, a 47-year old professional who turned to alcohol for comfort after he sank into a deep depression following several deaths in his family.  Previously a social drinker, John told NPR he drank to numb his thoughts, and at the height of his depression was drinking eight or more drinks a day.  He eventually sought help and was advised by a therapist to seek counseling for his grief.  The therapist also recommended that he try the prescription drug naltrexone to curb his drinking.
John, who had thought that Alcoholics Anonymous (AA) was his only option, agreed to try naltrexone, which has been shown to reduce heavy drinking and cravings for alcohol. "Naltrexone is an effective medication for the treatment of alcohol use disorders and its effectiveness is similar to that of antidepressants for major depressive episodes," Koob told NPR.
Naltrexone, an opioid antagonist, works by blocking the pleasurable effects of alcohol. "People [who use naltrexone] will say they have a drink, and it's not doing much for them," Koob told NPR. This is precisely what happened with John.  Taking naltrexone blocked him from getting a buzz which reduced his desire to drink. "I actually didn't feel any of the alcohol's effects," he said. "It was startling."  Five months later John has not stopped drinking but has cut way back using the naltrexone pill. "This is clearly helping me," he told NPR. "I can go out with friends and not worry that I'm going to end up inebriated and sloppy."
Naltrexone can be prescribed by any health care provider who is licensed to prescribe medications, including primary care doctors.  Naltrexone and acamprosate, a medication that has been shown to help recently abstinent heavy drinkers continue to avoid alcohol, have been shown to be safe, non-addictive and cost-effective, but are widely underutilized according to a 2017 review article.
While these medications, which have been shown to be most effective when used in conjunction with counseling, will not work for everyone, it is important that patients and doctors alike are aware of all treatment options.  The website Rethinking Drinking is part of an effort by the NIAAA to educate and inform the general public about AUD and current evidence-based treatments.