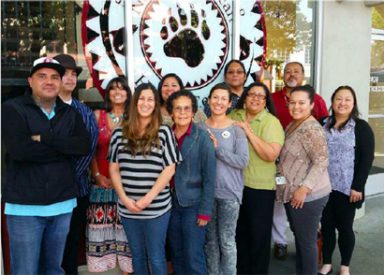 Since 1988, White Bison, Inc., has offered addiction prevention, sobriety, recovery, and wellness resources to the Native American and Alaska Native community nationwide. Located in Colorado Springs, Colorado, White Bison was founded and is operated by Native Americans dedicated to providing culturally based support to the Native American community. Many non-Native people also utilize the services offered by White Bison.
President and Founder Don Coyhis, Mohican Nation, originally set out to raise awareness and treat alcoholism among young people on Native American reservations. After studying the underlying causes of alcoholism, Coyhis expanded White Bison's mission to include drug addiction, family relationships, and suicide prevention. To address these issues, Coyhis created the Wellbriety Movement, a series of culturally based programs to address recovery and treatment, nurturing healthy families, and promoting healing from issues related to intergenerational trauma to Native American populations. White Bison's Vision Statement further explains Wellbriety:
"Wellbriety means to be sober and well. Wellbriety teaches that we must find sobriety from addictions to alcohol and other drugs and recover from the harmful effects of drugs and alcohol on individuals, families and whole communities. The 'Well' part of Wellbriety is the inspiration to go on beyond sobriety and recovery, committing to a life of wellness and healing everyday."
In 2014, The Peter G. Dodge Foundation (PGDF) awarded White Bison a Mission Grant to pilot test a culturally adapted version of the Celebrating Families program. Celebrating Families is an evidence-based treatment listed on SAMHSA's National Registry of Evidence-based Programs and Practices (NREPP). The adaptation combines principles of the Wellbriety movement with the established Celebrating Families program, making it more appropriate and appealing to Native American populations. Goals of the program include: improving communication and problem solving, avoiding relapse and recidivism, improving parenting skills, instilling a sense of connection to cultural traditions, reuniting families whose children are in foster care or whose family members are in treatment or incarcerated, and assisting foster parents in learning culturally relevant care for Native American children.
With the PGDF funding, White Bison trained 30 facilitators from treatment and social service agencies to implement the Wellbriety and Celebrating Families curriculum in their local communities of Minneapolis, Sacramento and Albuquerque. The newly trained instructors were then assigned to complete the sixteen-week program with families in their local communities. At the one-year mark, the program had been completed in two of the three locations, with eighteen families participating. The feedback from participants was overwhelmingly positive, with one session of the program proving popular enough to generate a waiting list. The Wellbriety and Celebrating Families program is expected to continue, with facilitator training being scheduled at the Wellbriety Institute reservation and urban sites in 2016.