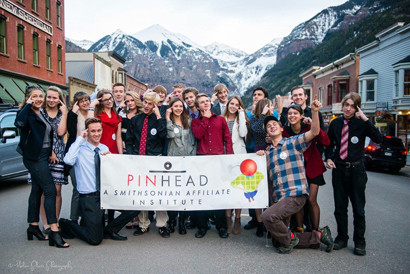 The Pinhead Institute is a Smithsonian Affiliate based in Telluride, Colorado that promotes science-education locally and globally through engaging programs, direct interaction with scientists, and unique research-centered internship experiences. Pinhead's internship program places high school students who have a strong interest in the sciences in professional settings where they gain valuable first-hand knowledge and learn about scientific careers. A select group of exemplary students from the Telluride area are chosen to participate each year.
In 2014 and 2015, PGDF awarded two $5,000 grants in support of Pinhead's internship program, allowing two students to participate in laboratory-based field work focused on drug and alcohol addiction. Kole Shugars and Ella White, chosen for the PGDF-funded internships, traveled from their homes in Telluride to La Jolla, California, where they studied at The Scripps Research Institute (TSRI). During their time at TSRI, an internationally recognized biomedical research organization, Kole and Ella worked closely with scientists studying addiction to alcohol and to nicotine. They worked with laboratory animals, helping to run experiments and gather data. They chronicled their experiences on blogs that can be found on the Pinhead Institute website, links listed below.
At the conclusion of the six-week program, Ella White wrote:
The knowledge shared and lessons given, I believe, have pushed me a little more towards adulthood and the path I want to take as I leave high school behind. Scientific research… is important in understanding what we do not know, especially when it comes to learning about humans and the brain.
The Pinhead Institute was founded in 2001 by Nana Naisbitt to provide rural youth with the opportunity to gain exposure to some of the greatest minds in the field of scientific study. Building on the longstanding friendship between Charles Wolcott, Secretary of the Smithsonian from 1907-1927, and Telluride entrepreneur L.L. Nunn, founder of the Telluride Association, The Pinhead Institute embodies the tradition of collaboration, excellence, and scholarship established by these historic figures. As a Smithsonian Affiliate, Pinhead aspires to create experiences and opportunities that broaden the public's perspectives on science and education. Pinhead's two cornerstone programs, "Scholar in the Schools" and the Pinhead Internship Program, plus science-based youth programing such as youth coding classes, 3D printing sessions, and robotics clubs, reach over 3,500 students each year, including every student in every school in grades K-12 in Telluride.