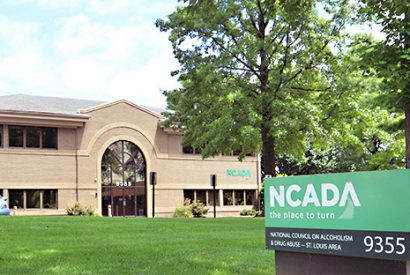 For more than 50 years, the National Council on Alcohol and Drug Abuse- Saint Louis Area (NCADA- St. Louis) has worked to reduce or prevent the harms of alcohol and other drug use through education, intervention and advocacy. Through youth programs focused on drug awareness and misuse prevention, they work with area schools to provide evidence-based curricula designed to help students resist pressure to use drugs and alcohol. NCADA- St. Louis works with every grade from K-12 in nearly 300 schools, and provides youth leadership programs to a few hundred teens. In all, NCADA serves more than 100,000 each year. For families, the organization offers information, support, and counseling on drug and alcohol use, as well as non-biased referrals to treatment when needed.
Working with youth is a hallmark of NCADA. Their Prevention Leadership Conference is an annual two-day event where teens and their adult sponsors gather for information sessions, entertaining presentations, and over 25 breakout sessions. Their Teen Institute is a weeklong transformational residential retreat for 85 high school students who return to their communities as prevention leaders. Red Ribbon Week is the largest drug prevention program in America, reaching millions of students each year during the last week of October. For more than 20 years, NCADA has helped students and administrators organize Red Ribbon activities for their schools. In 2016, over 700 students participated in the St. Louis area.
In 2015, 2016 and 2017, NCADA received notoriety and acclaim for provocative sixty-second opioid-themed PSAs that aired during the St. Louis area broadcast of the Super Bowl, and subsequently received national attention on YouTube and a variety of online media, fueling conversation about heroin around the country but most especially in St. Louis.
In 2015 and 2016, The Peter G. Dodge Foundation (PGDF) awarded Mission Grants to NCADA- St Louis in support of the Ask A Counselor program. This service provides individual, in-depth assessments, appropriate intervention, individualized, non-biased treatment referrals and help connecting to treatment for people experiencing problematic drug or alcohol use. PGDF grant funds were used to reduce client assessment fees, increasing the number of people accessing this program by 20% in 2016.
NCADA- St. Louis perennially ranks high atop the St. Louis Post-Dispatch's list (based on anonymous surveys of employees) of St. Louis' Top Workplaces. In NCADA's 2015 annual report, Board President Jim Murphy and Executive Director Howard Weissman proudly describe the energy and focus of the staff. "Everyone here believes in the mission and everyone here understands how their job helps advance it. Everyone understands the importance of what we're trying to do, and everyone understands what we're up against. Everyone is all-in, and everyone brings their best selves to work every day."