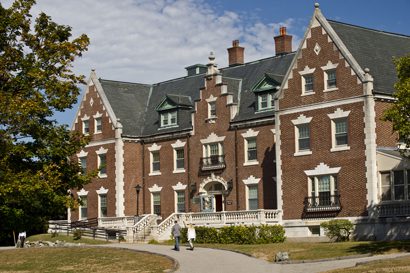 Founded in 1811 and located in Belmont, Massachusetts, McLean Hospital is dedicated to improving the lives of those affected by mental illness and substance use disorders.  Researchers at McLean work to better understand the neurobiological basis of psychiatric disease and addiction, and translate their scientific findings into evidence-based approaches to care.
The largest psychiatric teaching hospital of Harvard Medical School, McLean maintains a strong clinical research department and treatment program. The hospital's Division of Alcohol and Drug Abuse (DADA) has been conducting clinical research for over 30 years. At DADA, researchers develop and test new treatments for alcohol use disorder and other substance use disorders. In addition, DADA developed and is deploying a unique program to train clinicians across the hospital to identify and treat addiction disorders in their patients with often co-occurring psychiatric diagnoses such as depression, anxiety and eating disorders.
Working in conjunction with DADA, the McLean Hospital Alcohol and Drug Abuse Treatment Program (ADATP) provides clinical treatment for patients with drug and alcohol use disorders and related mental health disorders. For more than 40 years, ADATP has provided a safe and secure environment that is conducive to helping patients focus on addiction treatment and recovery.
In 2014, The Peter G. Dodge Foundation (PGDF) supported McLean Hospital with a Mission Grant designated for Kevin P. Hill, MD, MHS, Director of the Substance Abuse Consultation Service in the Division of Alcohol and Drug Abuse at McLean Hospital, and Assistant Professor of Psychiatry at Harvard Medical School, for his work in educating young people and at-risk communities about addiction.
The $25,000 grant supported a series of speaking appearances by the renowned addiction psychiatrist that took place throughout Massachusetts in 2015 and 2016. Entitled Improving Alcohol Education in the Community, these informational events covered the epidemiology of addiction, the risks of binge drinking and daily drinking, how to talk with someone who might have a problem with alcohol, and the different forms of alcohol addiction treatment.
Dr. Hill believes, "addiction can be thought of as a chronic medical illness, such as high blood pressure or diabetes. All three have a basis in biology, but personal behavior and environment can play a role in whether or not the given disease develops and how it can affect a person's life."
Dr. Hill earned a Masters in Health Science from the Robert Wood Johnson Clinical Scholars Program at Yale and has published on numerous addiction topics. He is the recipient of a prestigious federal K99/R00 grant award from the National Institute on Drug Abuse (NIDA): his project is to test the efficacy of a synthetic marijuana-like compound, nabilone, as a potential medication treatment for patients with marijuana addiction. Dr. Hill's book, Marijuana: The Unbiased Truth About the World's Most Popular Weed, was released by Hazelden Publishing in March 2015. Dr. Hill also maintains a small private practice.