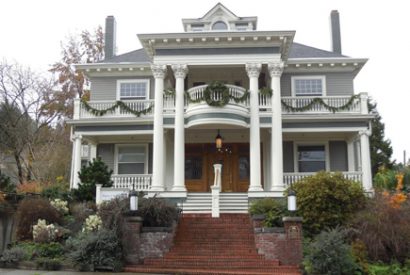 The Alano Club of Portland is a recovery-oriented community center that provides a welcoming, compassionate and accessible support environment for individuals and families recovering from alcoholism, drug addiction and other addictive disorders.
Located in Portland, Oregon, the organization's class, meeting, and event offerings are emblematic of a holistic and compassionate approach to recovery and include a wide range of support options, from movie nights and workout boot camps to yoga, financial planning and meditation sessions. The Alano Club offers support meetings across 20 distinct mutual-aid programs, serving more than 10,000 visitors every month. The organization also hosts advocacy trainings and workshops, and is the lead organizer of the Walk for Recovery, the first large-scale, annual benefit walk in support of recovery in Oregon.
Their website states, "As a voice on the national stage of recovery advocacy, the Alano Club of Portland strives to put a human face on addiction and broaden the public's awareness about what it means to be a person in recovery. By offering advocacy trainings, events and workshops, we mobilize the recovery community to stand up for recovery and speak out for greater access to recovery support. Through these efforts, we show that people can and do recover—every single day. And, it's a beautiful thing."
The Alano Club of Portland has been in operation for over 60 years and is the largest facility of its kind in the United States. In 1967, Cora Klein donated her historic home to the organization. Little is known about Klein's life, except that she lived alone and rented out rooms in her home to single women in need of help.
An October 2017 op-ed in The Oregonian highlights the immense regional need for organizations like The Alano Club. "According to the Office of National Drug Control Policy, Oregon ranks 4th in illicit drug use … The annual cost of addiction in Oregon is $5.9 billion … 3 times the size of the $1.8 billion budget gap."
Joining the organization in 2006, Executive Director Brent Canode brings more than ten years of experience in policy analysis, program development, and fundraising to his role. He earned a Masters Degree in Public Affairs from the University of Oregon where he was also a research fellow. Brent is also the co-founder and chair of Oregon Recovers, a new statewide advocacy campaign, and co-founder and vice-chair of Oregon Recovery High School Initiative, which will open Oregon's first recovery high school in 2019. In 2015, Brent served as Oregon Organizer for the UNITE to Face Addiction rally on the National Mall in Washington D.C., the largest recovery rally in the history of the United States. Brent was also on the ground in Philadelphia in the summer of 2016, helping organize the first Caucus For Addiction Solutions at the Democratic National Convention.
The Alano Club of Portland, Oregon received a 2017 PGDF Mission Grant to support the Recovery Toolkit Series (RTS), a comprehensive and free set of tools to help individuals achieve sobriety and avoid relapse. That same year, the Alano Club also won the Joel M. Hernandez award for the Recovery Toolkit Series at the America Honors Recovery Gala, an honor given to just one recovery organization per year for innovative work in the field.