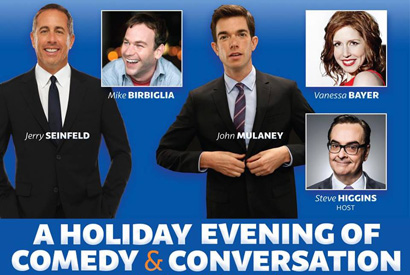 The Peter G. Dodge Foundation (PGDF) is pleased to announce that PGDF Founder Peter Dodge will be honored with a Change Begins Within Award at the 14th Annual David Lynch Foundation (DLF) Benefit and Awards Dinner on Monday, December 10th, 2018 at The Plaza Hotel in New York City.
"A Holiday Evening of Comedy and Conversation" will star Jerry Seinfeld, John Mulaney, Mike Birbiglia, Vanessa Bayer, and host Steve Higgins, in a benefit to end addiction, strengthen families, and build communities. This event signals the launch of DLF's new national initiative to prevent and treat addiction.
Peter has been an influential force in establishing this new initiative. As someone who has experienced profound benefit from Transcendental Meditation (TM) in his own recovery, Peter has become an advocate for its use as a tool to help others prevent relapse. PGDF has been proud to partner with DLF over the last several years to explore the beneficial effects of TM in supporting recovery from alcohol addiction. In 2015, PGDF partnered with DLF for the first time in order to initiate and fund a scientific study of TM in a clinical setting where clients were being treated for alcohol use disorder. Results from this pilot study were very promising; of the clients who adhered to the 20-minutes-twice-daily regimen, none had relapsed to drinking at the follow-up point. Subsequently, PGDF created a staff position at DLF to extend their work with at-risk populations to support those in recovery from substance use disorders. Currently, PGDF and DLF are working together to initiate a second phase trial to replicate and expand upon the results of the 2015 pilot study.
Other 2018 Change Begin Within Awardees are Chandrika Tandon, a business leader, Grammy-nominated artist, and humanitarian; and John Hagelin, PhD, President of the Global Union of Scientists for Peace.
To learn more and purchase tickets, visit https://www.davidlynchfoundation.org/change-begins-within/